AIRGUARD™ Blockage Prevention System (Oil Cooler)
The AIRGUARD Blockage Prevention System keeps the tubes of your air seeder free from plugging. Attaching directly to the air intake of your air drill, this oil cooler reduces your oil temperature and moisture levels for optimum product flow.
Seeding Problems?
The Airguard Blockage Prevention System may be the solution for you to help reduce your oil temperature and reduce plugging issues with your air seeder. See how our heat exchanger effects relative humidity and oil temperature at various ambient temperatures and humidity levels. Read the full reports performed by PAMI here: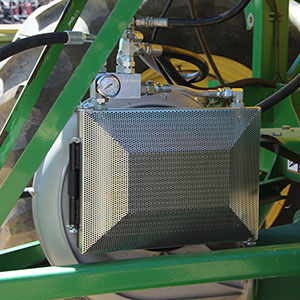 Keep your tubes clear
AIRGUARD Blockage Prevention Systems are quick and easy to install with any air drill to deliver optimum results.
Seed in wet and dry conditions — work in humid conditions without plugging issues
Reduce humidity — significantly decrease the moisture in your air drill to reduce plugging issues
Lower oil temperature — keep your oil cool and hydraulic system running efficiently
Use dusty fertilizers — eliminate the hassle of plugging problems with powdery fertilizers

Buy Now
Fits Any Air Seeder Brand
Custom Fan Brackets can be manufactured upon request.
Results you can see
Powdery fertilizer mixed with humid conditions can create major problems on air drills. These images show the positive effect that an Airguard Blockage Prevention system can have on your internal components. The image at the top was taken from a drill that did 3000 acres with a Blockage Prevention System installed. It's clear that AIRGUARD Blockage Prevention Systems deliver results.
Snorkel Kit
AIRGUARD Snorkel kits are available for any air delivery system.
Reduce Buildup of Residue — stops fan from sucking in chaff and dirt
Prevent Plugging — eliminates buildup of dust and dirt on meters, manifolds and openers
Single or Dual — available in Single 8" flex hose for lower air flow fans or Dual 8" flex hoses for high capacity fans.
Optional Cooler Kit — Snorkel is available with or without the cooler assembly


Snorkel Kits & BP Systems for Fertilizer Floaters
AIRGUARD Snorkel Kits and Blockage Prevention Systems are a great addition to fertilizer floaters. Our snorkel kit intakes ensures that snow and dust do not enter the fan air stream. Dual or Single hose configurations are available for large or smaller capacity fans. Optional oil cooler ensures your air stays dry and reduces plugging of fertilizer dust on internal components. Universal snorkel mount kits are also available to lift the snorkel intakes above your machine.
Easy Fitup
AIRGUARD Blockage Preventions systems are made to fit S3 Air Systems Blower Assemblies. Brackets are easily installed to fan intake using existing hardware with minimal effort.